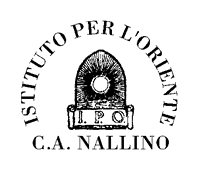 Catalog of the Istituto's Publications as of January 16, 2019.
Click here to download Catalog of the Istituto's Publications (pdf format).
Latest publications of the Istituto per l'Oriente C. A. Nallino
* n. 107 Sayyid Qutb (Un bambino di paese / Tifl min al-qaryah)
* n. 110 Raoul Villano (La struttura binaria del Corano)
* n. 111 Deborah Scolart (L'Islam, il reato, la pena dal Fiqh alla codificazione del diritto penale)
* n. 113 Mohammad Ali Amir-Moezzi (Il Corano silente)
* n. 114 Cristina La Rosa (L'arabo di Sicilia nel contesto maghrebino). Collana La Sicilia islamica.
* n. 115 Ṭāhā Ḥusayn (I Giorni / al-Ayyām). Prima traduzione completa dall'arabo.
* n. 118 vol. I Johannes S.T. Waardenburg (La Siria contemporanea)
* n. 119 vol. II Johannes S.T. Waardenburg (Tavole sinottiche)
* n. 120 Viola Allegranzi & Valentina Laviola (Texts and contexts – Ongoing researches on the Eastern Iranian World – Ninth-Fifteenth C.)
* n. 121 A cura di Avino, Barbaro, Ruocco (Qamariyyāt - Studi in onore di I. Camera d'Afflitto)
* n. 122 Arturo Monaco (Surrealismi arabi 1938-1970)
* n. 123 Daniela Potenza (The Kaleidoscope Effect - Rewriting in Alfred Faraǧ's plays)
* n. 124 Ṭāhā Ḥusayn (Fī šiʿr al-ǧāhilī).