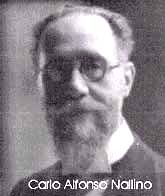 The Istituto per l'Oriente (IPO), i.e. Institute for the East (now Istituto per l'Oriente Carlo Alfonso Nallino, IPOCAN), is the oldest Italian institution of studies and research on the modern and contemporary Arab-Islamic world. It was founded on the 13th of March 1921, when a group of ambassadors, of high-ranking officials of the public Administration and university professors of Oriental Studies thought to endow Italy with an operating research tool on the area of ​​the Islamic Near and Middle East, that was changing its own set-up after the end of the First World War.
Since 1982 the IPO has added the name of one of its most important founders, Carlo Alfonso Nallino, perhaps the greatest Italian scholar of Islamic studies of his time, who, through his daughter Maria, has tied his extraordinary library and his whole estate with the Istituto, of which he had been prestigious Scientific Director and Editor of the review Oriente Moderno.
By decree of the President of the Republic n. 498 of the 5th of January 1953, the Istituto has become a non-profit organization. The IPO has remained constant point of reference and organizational centre of the Italian research into the field of Islamic Studies of Near and Middle East within its competence, thanks to the scientific contribution of the members of the Istituto who, in different ways, deal with a lot of universities (f.i. Rome, Naples, Venice, Palermo, Pisa, Milan, Turin, Bologna, Perugia, Cagliari, Lecce) and several Italian research centres.