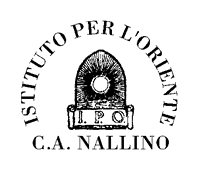 Istituto per l'Oriente Carlo Alfonso Nallino
19, via Alberto Caroncini - 00197 Rome (Italy)
Tel. 06.808.41.06 - Fax. 06.807.93.95
Info Ipocan This email address is being protected from spambots. You need JavaScript enabled to view it.
The Istituto per l'Oriente Carlo Alfonso Nallino (IPOCAN) was founded in March 1921 by a group of ambassadors, senior civil servants and university professors of Oriental studies, to give Italy a valuable research institution devoted to the Near and Middle East (which was going to have a different rearrangement after World War I). In 1982 its name was changed in honour of one of its founders, Carlo Alfonso Nallino, whose library and whose house was donated to the Institute, through his daughter Maria. From the beginning, the sphere of reference for the Institute's work has always been the Near and Middle East, and particularly the Islamic countries.
The Institute has worked without a break for 92 years, standing as a benchmark for Italian researches in its area of study.
Essential personal scientific contributions have been made by members of the Institute, which mainly pertain to a number of universities and research centers, both Italian (Roma, Napoli, Venezia, Pisa, Milano, Torino, Bologna, Palermo, Lecce, Cagliari in particular) and foreign.