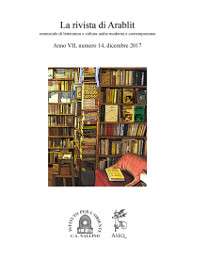 Instructions for Contributors
Articles, written either in Italian, French, English or Spanish, must be scientific, original and unedited.
Scientific transliteration is compulsory (authors are to stick to the rules followed in the first issue of the on-line magazine)
Articles must include an abstract in English.
Articles must not be longer than 25 pages (1 page = 2,000 characters)and they can include some images only if authorized by the source.
Articles must be accompanied by a brief biographical note on the author.
Submitted articles will be evaluated by the magazine's Editor and Scientific Committee and will thereafter be published only upon referees' approval. Submissions are refereed anonymously.
Any contribution based on a degree thesis will be accepted only through presentation on behalf of the supervisor of the thesis.
Submissions can be sent either to the email address appearing in the colophon or directly to the Editor.

Technical Instructions
Articles must be submitted in electronic format using .doc (Microsoft Word) or .odt (Open Document) document file format, please include in the file information on the operating system (Windows, Linux, Mac, other) and the word processor (Word, Corel, Star, Lotus, etc.) used.
Times New Roman typeface is preferred even for scientific transliteration of Arabic words [the newest Times New Roman version has all of the characters with diacritical marks: Āā Īī Ūū Ḥḥ Ḫḫ Ǧğ Ġġ Ḏḏ Ḍḍ Ṣṣ Šš Ṯṯ Ṭṭ Ẓẓ ' ' ].
Font size must be 12 points in the text, 10 points in footnotes and 11 points in quotations. Line spacing must be single throughout.
Articles can only include footnotes. Endnotes are not accepted..
Images must be sent as a separate file (.png or .jpg extension) with precise indications on the place in which they should eventually be included.
Download this document in pdf format.